Paper production is the result of a complex process requiring huge quantity of water but also some energy.
The key issue for operators is therefore energy efficiency and the recovery of effluents, filtrates and other by-products.
Papermaking is divided into 8 steps:
The Weplex® exchanger will provide a set of innovative solutions for processing the by-products from this production process. It will intervene in the energy recovery of these charged fluids. Among them:
White water: which the Weplex® exchanger can heat or cool to reach the set temperature.
The black liquor heat (from the cooking of the fibers) can be recovered.
The filtrate.
The effluents from which we will recover the calories to optimize paper mill production costs. Furthermore, it can be used to respect the maximum temperature of 30 ° C of discharge of treated water, in a natural environment.
In addition, the Weplex® exchanger can also be used to heat or cool all types of fluids (water, oil, gas, fuel oil, etc.)
The Weplex® exchanger: an exchanger suitable for paper factory.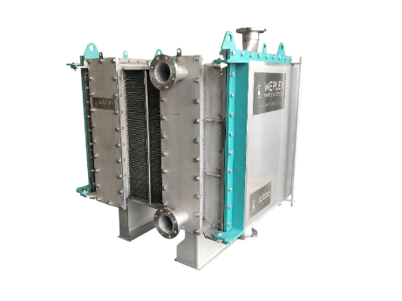 The large channels and welded plates Weplex® heat exchanger is designed to to take into account the different constraints of pulp and paper industry.
Indeed, its innovative and patented design guarantees a significant reduction in production shutdowns.
The decrease in the frequency of those is about a monthly preventive cleaning for a Weplex® exchanger, versus an inescapable weekly cleaning for a conventional exchanger.
The duration of those production shutdowns is also divided by 3 due to the easy opening of the device and its large channels allowing rapid cleaning.
With a higher exchange coefficient compared to a traditional equipment as well as Duplex materials, the Weplex® exchanger is less energy-consuming and more robust over time.
Optimize a paper mill with the Weplex® exchanger